Wow and wow, kachi has finally showed how much he love Rosie as he showered her with emotional words.
Kachi while interacting with Rosie tonight told her that he blessed the day he set his eyes on Rosie.
He also said that's Rosie have a good heart and her mistake in the past doesn't defined her.
Kachi made this statement without forcing it and that's what's his fans really need from him at the moment because they have started questioning his change of character towards Rosie.
Recall that Rosie has made a whole lot of mistake in the past. Ranging from giving birth to two kids outside wedlock.
Been involved in abusive relationship and also taking decision of doing family planning even when she's still single.
Kachi has assured Rosie that despite all the mistake, he still love her and bless the say God joined them together.
Reacting to what kachi said, a Twitter user identified as hali haly praised kachi and assured him that his fan also blessed the day they started voting for them to emerged the winner of the reality show.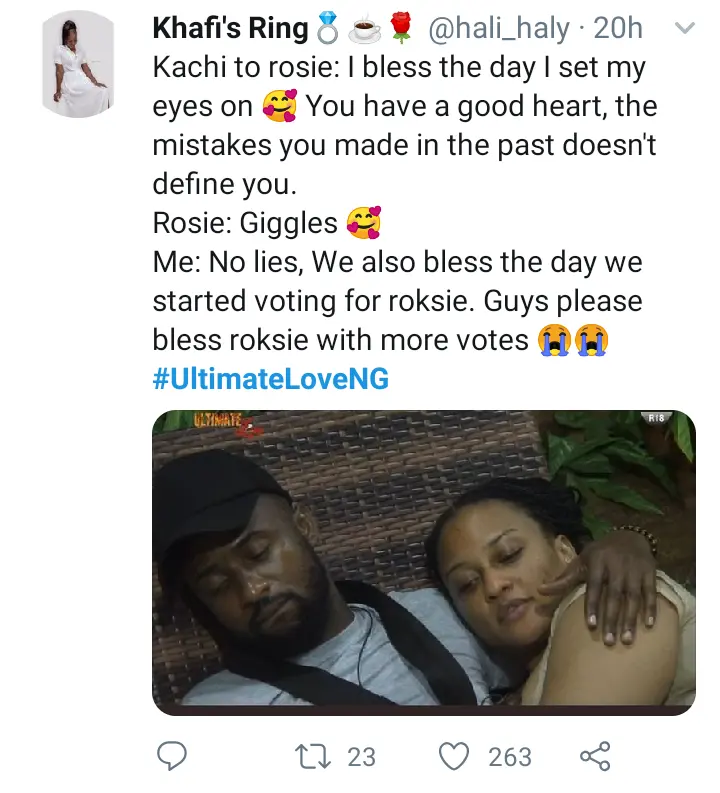 It might interest you to know that kachi and Rosie are housemate at the new TV reality show called ultimate love. Both were paired together to search for their ultimate love with the couple name Roskie.
Do you believe in what kachi said or is he trying to play Rosie?
Please, Kindly drop your opinion using the comment box.
Don't forget to like and share this article.
For more today's update, kindly click here